The Athole Collection
The Athole Collection of Scottish Dance Music is recognised as one of the principal sources in this field. Its compiler, James Stewart Robertson of Edradynate, Perthshire, was a founding member of The Edinburgh Highland Reel and Strathspey Society and its president from 1881. He published his collection of 870 strathspeys, reels, jigs, hornpipes and country dances in 1884.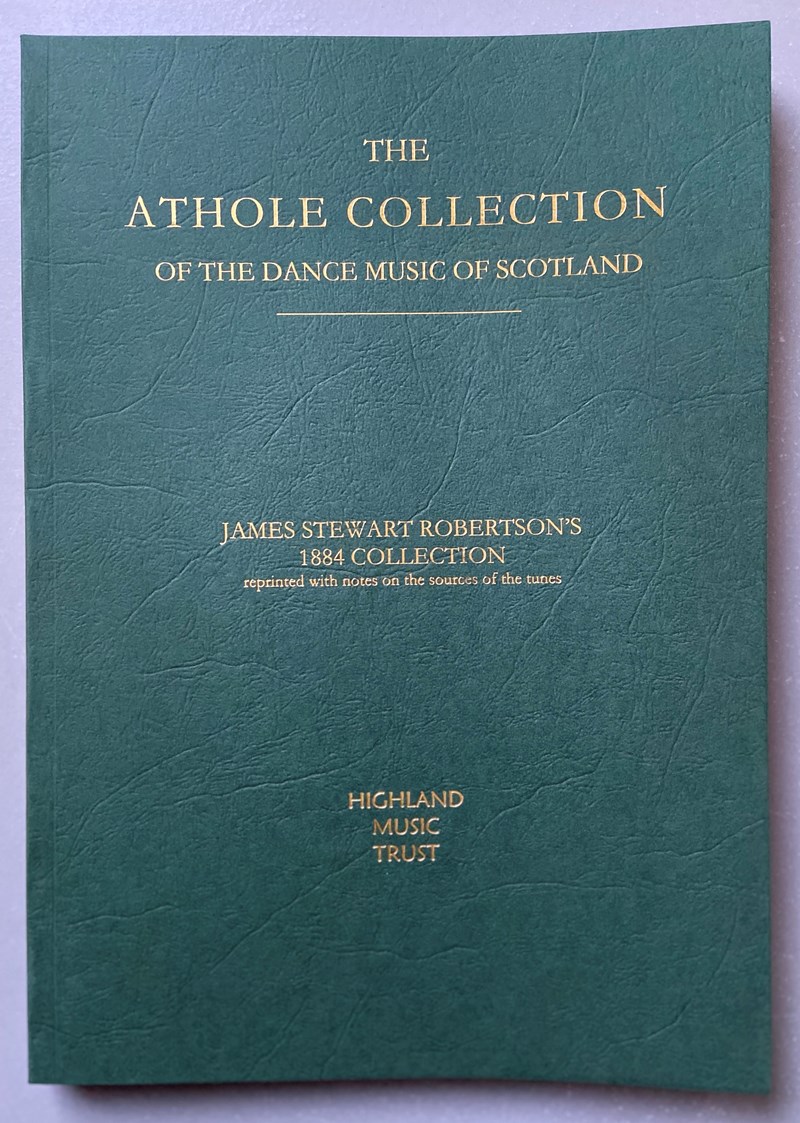 The collection was reprinted in 1961, but for many years was out of print, and although scholars and players were aware of the book, it was difficult to obtain direct access to it. Meanwhile, interest in Scottish Music in general and the older tunes in particular was being fostered by players, teachers and dance bands in Scotland, Cape Breton and elsewhere and taken up by an enthusiastic public.

A reprint by Balnain House, Inverness in 1996, enthusiastically welcomed, is now out of print. In republishing the Collection in 2008, Highland Music Trust has followed their lead in producing a working volume for today's players, omitting the rudimentary bass lines of the original but leaving the melody lines unaltered and the music grouped in keys. For the first time, notes have been provided on the sources of the tunes, with references to earlier and contemporaneous collections. These have been prepared by Charles Gore, compiler of the prestigious Scottish Fiddle Music Index.

The book reprints the Foreword by the late Duke of Atholl and Introduction by the great Scottish fiddler Alasdair Fraser, both from the 1996 edition.

There are 182 pages of music, and the book is available in soft cover. It was previously available in a limited edition hard cover version (100 copies only).
A Big, Old, Lazy Man
A Black Knife
A Chridhealachd
A Chuachag
A Dhomhnuill, A Dhomhnuill
A Good Old Tune
A Haggis And Skewer (In It)
A Hill in Strathtay
A Lower Ridge of Feargan Hill
Abercairny House
Aberdeen Hunt
Aberlour's Squeeze
Abounding In Hillocks
Againn
Alasdair MacAlasdair
Alexander Brodie
Alexander's Dark Haired Daughter
Alexander's Son
Allt A' Ghobhainn
Am Bodach Luideach Odhar
Ambulree
America
An Gabh Thu Bean, A Dho'ill Bhig!
An Gearran
An Gille Dubh, Mo Laochan
An Honourable Peace
An Oidhche Bha Na Gabhair
Andrew Carr
Anna is my Darling
Appin House
Archduke John of Austria
Argyle Bowling Green
Arthur's Seat
As a Thoisich
Athole Brose
Athole Cummers
Athole House
Athole Lads
Athole's Bonnie Lasses
Athole's Honest Man
Auchtertyre House
Auld Lang Syne
Auld Stewarts of Forthergill
Ayrshire Lasses
Baile Nan Granndach
Ballechin Rant
Ballindalloch's Dream
Balmoral Castle
Be Off, Macintosh!
Because He Was A Bonny Lad
Belladrum House
Ben Lomond
Ben Nevis
Beyond The Islands, To America We Go
Big James Of The Glen
Big Kirsty
Big Romping Meg
Biodag Air Mac Alasdair
Biodag Air MacThomais
Biodag Dho'ill-Ic Alasdair
Birks of Aberfeldy
Black But Comely
Blackhills (Strathtay)
Blair Drummond
Blue Bonnets Over the Border
Blue Bonnets Ow'r the Border
Bonnie Annie
Bonny Lass of Ballantrae
Bonny Lass of Fisherrow
Bonny Lassie O'
Braes of Auchtertyre
Braes of Balquhidder
Braes of Mar (Reel)
Braes of Mar (Strathspey)
Brandlings
Brechin Castle
Bridge of Bamore
Bridge of Perth
Briogais Shambo
Brisk Bob
Brodie of Brodie
Broun's Reel
Ca' Hawkie Through the Water
Ca' the Stirks
Cabar-Feidh
Caisteal Chuimri
Calabria
Calum Breugach
Calum Figheadair
Cameron's Got His Wife Again
Captain Byng
Captain Campbell
Captain David Stewart 42nd Royal Highlanders
Captain Elphinston
Captain Fife
Captain George Hunter
Captain H. Munro
Captain Keeler
Captain Macduff's Farewell
Captain McDuff
Captain Ross
Carlisle Lasses
Carn Dubh
Carrick's Rant
Catch and Kiss the Romp
Cawdor Fair
Chailleach Mhusgach
Chailleach Odhar
Chailleach Oidhche
Chamois Breeches
Charles Leslie
Charlie Stewart
Charlie! Would You Only Come
Cheap Meal
Cheap Mutton
Chuir I Glum Air A'Bhodach
Ciorsdan Mhor (Reel)
Ciorsdan Mhor (Strathspey)
Clach Na Cudain
Clanranald
Cluny Rock
Clydesdale Lasses
Coille An Togail
Coirechoille
Colbeck House
Collar Green
College
Colonel Baird
Colonel Fraser of Knocky
Colonel Macbean
Colonel Montgomery
Colonel Robertson
Colonel Thornton
Colonel Wemyss
Colquhalzie Fir Trees
Come Along and Keep Your Promise
Comely Garden
Comrie Castle
Coopers
Corimonie's Rant
Corn Rigs
Count D'Artois
Countess of Breadalbane
Countess of Cassillis
Countess of Dalhousie
Countess of Sutherland
County Hall
Craig O' Barns
Craigellachie Bridge
Craigie Hall
Creag Na Pollaich
Crieff Fair
Cronan Na Linne Mhuilich
Croughly
Cullen House
Culloden House
Cut and Dry
Cut Him Down Susie
Cuttie's Wedding
Cutting Ferns
Cuttyman and Treeladle
Dainty Davie
Dalkeith House
Dalry House
Dawted Mary
Deer-Horns
Deil Tak the Breeks
Delvine Side
Dogs Bite Chapman
Domhnull Cleireach
Don Side
Donald Clark
Donald Dow
Donald MacGugan's Rant
Donald Quaich
Donald! Donald!
Double Kisses
Douglas
Dr Gregory Grant
Dr Manson of Spynie
Druim-Uachdair
Drumins
Drummond's Rant
Dubh Chnocan
Duchess of Bedford
Duchess of Gordon
Duchess of Hamilton
Duff of Muirtown
Duke of Cumberland
Duke of Kent
Duke of Perth
Dumfries House
Duncan Davidson
Duncan McQueen
Dunfermline Races
Dunie Mains
Dunkeld Bridge
Dunkeld Hermitage
Dunrobin Castle
Duns Dings A'!
Dunt the Grund at Leisure
Earl Grey
Earl Marischal
Earl of Breadalbane
Earl of Dalhousie
Earl of Dalkeith
Earl of Eglinton's Birthday
Earl of Home
Earl of Hyndford
Earl of Loudon
Earl of March
East Neuk of Fife
Easter Elchies
Eclipse
Edradynate House (Reel)
Edradynate House (Strathspey)
Edradynate Medley
Evans
Ewie Wi' the Crooked Horn (x2)
Fair Fa' the Minstrel
Fang the Fiddlers
Feargan
Ferintosh
Fife Hunt
Fight About the Fireside
Fill the Stoup
Fishers
Flora Macdonald
Flowers of Edinburgh
Forfar Hunt
Fox Chase
Francis Sitwell
Gabhaidh Sinn an Rathad Mor
Garey Cottage
Garthlands
General Macdonald (x2)
General Wemyss of Wemyss
Gille Calum
Gin I Had a Bonny Lassie
Glasgow Lasses
Glen Ogle
Glenelg
Glengarry's Dirk
Glengarry's Dirk
Glenlyon (x2)
Glenmoriston
Glenquey
Glentilt
Glentromie
Golden Locks
Gordon Castle
Gordon's Reel
Gorthleck's Highland Plaid
Grant Lodge
Grantown
Grantully Bridge
Green Grow the Rashes O
Greig's Pipes
Harvest Home (Hornpipe)
Harvest Home (Strathspey)
Haste to the Wedding
Haughs of Cromdale
Hector's House
High Road to Fort Augustus
High Road to Linton
High Up the Glen
Highland Dress and Armour
Highland Whisky
Hilton Lodge
Hoch Hey Johnnie Lad
Hon. Captain Maitland
Hon. John Leslie Melville
Hon. Miss Drummond of Perth
Hon. Mr Ramsay Maule
Hon. Mrs Maule
Hon. Mrs Maule of Panmure
Honest Duncan
I Winna Gae To Bed
I'll Gang Nae Mair to Yon Town
I'll Hap Ye In My Plaidie
I'll Mak' Ye Be Fain to Follow Me
If Ye Had Been Where I Hae Been
Inver Lasses
Invercauld
Inverness Lasses
Irish Washerwoman
Irving Steeple
Island of Java
Isle of Skye
Jack a' Tar
James McNicoll
Jenkins
Jenny Dang the Weaver
Jenny Drinks Nae Water
Jenny Nettles
Jenny Sutton
Jenny's Bawbee
Jessie Smith
Jinglin Johnnie
John Angus
John Cheap, the Chapman
John McAlpin
John O' Groat's House
John Roy Stewart
Johnnie Lad
Johnnie Pringle
Johnnie's Made a Waddin' O't
Johnny Groat's House
Johnny Macgill
Keel Row
Keep the Country Bonny Lassie
Kenmore Lads
Killiechassie
Killin
Kincaldrum
King George IV's Welcome
Kinrara (Reel)
Kinrara (Strathspey)
Kiss Me Fast
Knockando House
Ladar Mor A' Ghogain
Lads of Duns
Lads of Tain
Lady Amelia Murray
Lady Ann Hope
Lady Ann Hope (no. 2)
Lady Ashburton
Lady Baird
Lady Belhaven
Lady Binning
Lady Burnside's Birthday
Lady Carmichael
Lady Caroline Montague
Lady Charlotte Campbell (Reel)
Lady Charlotte Campbell (Strathspey)
Lady Charlotte Durham
Lady Charlotte Menzies
Lady Charlotte Murray (x2)
Lady Charlotte Primrose
Lady Doune
Lady Down
Lady Dumfries
Lady Elizabeth Campbell
Lady Elizabeth Lindsay
Lady Georgina Gordon
Lady Georgina Russell
Lady Glenorchy
Lady Grace Douglas
Lady Grace Stewart
Lady Hamilton Dalrymple
Lady Hampden
Lady Harriet Hope
Lady Helen Wedderburn
Lady Jane Montgomery
Lady Jane Neville
Lady Jane Taylor
Lady Jardine
Lady Jemima Johnston
Lady Loudon
Lady Lucinda Ramsay
Lady Lucy Leslie Melville
Lady Lucy Ramsay
Lady Madalina Gordon
Lady Madelina Sinclair
Lady Madelina Sinclair's Birthday
Lady Margaret Stewart
Lady Mary Hope Vere
Lady Mary Menzies
Lady Mary Murray
Lady Mary Ramsay (x2)
Lady Mary Stopford
Lady Montgomery
Lady Nelly Wemyss
Lady of the Lake
Lady Shaftesbury
Lady Spencer Chichester
Lady Susan Gordon
Lamberton Races
Largo Law
Lasses Like Nae Brandy
Lassie Look Before Ye
Lassie Look Behind Ye
Lassie Wi' the Yellow Coatie
Lassintulloch
Leith Hall
Lennoxlove to Blantyre
Leslie
Lick the Ladle Sandy
Lieutenant A Stewart
Limerick Lasses
Link Him Doddie
Little Donald's Wife
Liverpool
Loch Derculich
Loch Earn
Loch Ericht Side
Loch Glassie
Loch Ruthven
Lochan A'Chait
Lochend Side
Lochiel's Rant
Lochrynach
Lord Airlie
Lord Alexander Gordon
Lord Blantyre
Lord Dalhousie
Lord Down
Lord Eglintoun's Auld Man
Lord Elphinston
Lord Glenorchy
Lord Hay
Lord James Murray
Lord John Campbell
Lord Kelly
Lord Kilmaurs
Lord Kinnaird
Lord Lovat's Welcome
Lord Lyndoch
Lord Lyndoch's Welcome
Lord Macdonald (x2)
Lord Moira
Lord Ramsay
Lord Saltoun
Lord Seaforth
Lord Strathaven
Lovat's Restoration
Lurgan's Great Tune
Lying Malcolm
Macallastair Wears A Dirk
Macfarlane's Rant
Mackenzie's Rant
Maclauchlane's Scotch Measure
Macvicar's
Mad Cap
Maid of Islay
Mairi Bhoidheach
Major McBean
Major Molle
Maoile Nan Crogaichean
Marchioness of Huntly
Marnoch's
Marquess of Lorn
Marquis of Huntly (x2)
Marquis of Huntly's Highland Fling
Marquis of Huntly's Snuff Mill
Marquis of Queensberry
Marry Me Now
Mary Gray
Mason's Apron
Meg Merrilees
Meg Mhor Na Lurachan
Menzies Rant
Merry Lads and Bonny Lasses
Merry May The Pair Be
Miller Lads
Miller of Dron
Miss Abercromby
Miss Ann Amelia Murray
Miss Ann Stewart, East Craigs
Miss Austin
Miss Baird of Saughton Hall
Miss Betsey Robertson
Miss Betty Hunter
Miss Caroline Campbell
Miss Charters
Miss Clementina Stewart
Miss Colston (x2)
Miss Cox
Miss Davidson
Miss Douglas
Miss Douglas of Springwood Park
Miss Drummond of Megginch
Miss Drummond of Perth
Miss Dumbreck
Miss Dundas of Arniston
Miss Elenora Robertson
Miss Erskine of Alva
Miss Erskine of Torrie
Miss Fleming of Killiechassie
Miss Fogo
Miss Forbes
Miss Forbes Farewell to Banff
Miss Forbes of Pitsligo
Miss Forsyth Huntly
Miss Gibson
Miss Grant of Grant
Miss Grant of Kinaird
Miss Gray of Carse
Miss Hamilton of Bangowrie
Miss Hay of Yester
Miss Henny Mackenzie
Miss Heron
Miss Hog. Newliston
Miss Hopkins
Miss Innes
Miss Jane Grant, Lynmore
Miss Jeffrey
Miss Jenny Guthrie
Miss Jessie Scott
Miss Jessy Cumming
Miss Johnston
Miss Johnston of Hilton (x2)
Miss Johnstone
Miss Katherine Stewart Forbes
Miss L Montgomrie of Skelmorlie
Miss Louisa Duff
Miss Lyall (Reel)
Miss Lyall (Strathspey)
Miss M Ross
Miss Macdowal Grant of Arndilly
Miss Macinnes
Miss Mackenzie of Gairloch
Miss Maclean
Miss Macleod of Colbeck
Miss Macpherson Grant of Ballindalloch
Miss Margaret Campbell (Saddell)
Miss Margaret Graeme of Inchbrakie
Miss Maria Dundas (x2)
Miss Mary Macdonald
Miss Mary Stewart of Derculich
Miss Maule of Panmure
Miss May Hay
Miss Menzies of Culdares
Miss Menzies of Menzies
Miss Moneypenny of Pitmilly
Miss Muir Mackenzie
Miss Murray of Auchtertyre
Miss Nancie Low
Miss Nisbet of Dirleton
Miss Pensy Macdonald
Miss Rattray
Miss Robertson of Tullybelton
Miss Rose
Miss Ross (x2)
Miss Sarah Drummond of Perth
Miss Scott of Usan
Miss Sitwell
Miss Stewart of Grantully (Reel)
Miss Stewart of Grantully (Strathspey)
Miss Stewart, Bunrannoch
Miss Stewart-Robertson of Edradynate
Miss Susan Gordon
Miss Taylor
Miss Vere Hay
Miss W Macdowal of Ardnilly
Miss Wardlaw
Miss Watt
Miss Wedderburn
Miss Welsh
Miss Whitefoord
Miss Young
Mo Laochan Boidheach
Mo Mhairi Mhin, Mheall-Shuileach
Montgomerie's
Monymusk
Morpeth Rant
Moy Hall
Mr Baillie of Mellerstain
Mr Bernard
Mr Campbell Craignish
Mr Compton of Compton Hall
Mr Donaldson
Mr Douglas of Springwood Park
Mr Dun's Frolick
Mr Dundas Macqueen
Mr George Anderson
Mr Grant of Glenquaich
Mr Gray of Carse
Mr Gun Munro of Poyntz-Field
Mr James George
Mr James Hamilton
Mr John Smith
Mr John Stewart of Grantully
Mr Lumsden
Mr Menzies of Culdares
Mr Moray of Abercairny
Mr Robertson of Lude
Mr Thom
Mrs Addie
Mrs Baird
Mrs Baird of Newbyth
Mrs Bourke
Mrs Brown of Linkwood
Mrs Campbell of Lochnell
Mrs Campbell of Monzie
Mrs Chisholm
Mrs Christie
Mrs Colonel Forbes
Mrs Colonel Neynoe
Mrs Crawford
Mrs Douglas Moncreiff
Mrs Douglas of Ednam
Mrs Drummond of Logiealmond
Mrs Duncan
Mrs Dundas McQueen
Mrs Dundas of Arniston
Mrs Forbes
Mrs Fraser, Cullen
Mrs Garden of Troup (Reel)
Mrs Garden of Troup (Strathspey)
Mrs General Campbell
Mrs General Maxwell
Mrs George Johnstone of Byker
Mrs Gillies
Mrs Gordon of Aberdour
Mrs Gordon of Belsies
Mrs Gordon of Whitehill
Mrs Hamilton of Wishaw
Mrs James Campbell
Mrs Kennedy of Greenan
Mrs Macdonald of Clanranald (x2)
Mrs Macdowal Grant
Mrs Macleod
Mrs Macleod of Ellanreoch
Mrs MacLeod of Gesto
Mrs Macpherson Gibston
Mrs McLeod
Mrs Menzies of Culdares
Mrs Moneypenny
Mrs Moray of Abercairny (Reel)
Mrs Moray of Abercairny (Strathspey)
Mrs Morthland (x2)
Mrs Muir Mackenzie
Mrs Mure of Caldwell
Mrs Norman Lockhart
Mrs Oswald of Auchincruive
Mrs Ramsay of Barnton
Mrs Ronald
Mrs Rose
Mrs Small
Mrs Stewart Fleming of Killiechassie
Mrs Stewart Nicholson
Mrs Stewart of Garth
Mrs Stewart, Inverugie
Mrs Tulloch, Earnhill
Mrs Wright
Mrs Young of Cornhills
Muileann Dubh
My Bonny Darling
My Choice Is, The Chisholm
My Gentle, Winning eyed Mary
My Wife's A Wanton Wee Thing
Neil Roy
Nether Cluny
New Year's Day
Newbyth House
Niel Gow
Niel Gow's Farewell to Whisky
Niel Gow's Lament for Abercairny
Niel Gow's Wife
Nighean Dubh Alasdair
Nighean Dubh Nan Geala Chas
Nine Pint Coggie
North Bridge of Edinburgh
North of the Grampians
North of the Tay
North of the Tweed
Null Thar Nan Eileanan, dh'America Gun Teid Sinn
O Gin Ye Were Dead Gudeman
O She's Comical
O Welcome to My Dearie O
O'er Bogie
Off She Goes
Old Dumbarton Drums
Old Garth Castle
Old Isle of Mull Tune
Orkney
Orkney (very old set)
Ossian's Hall
Pass About the Flagon
Pay As You Go
Pease Strae
Peggie's Wedding
Peggy Menzies
Perth Assembly
Perthshire Volunteers
Peter Bailie
Peter Reid
Petronella
Poll an Droighinn
Port a'Bhodaich
Port Mor Na Lurgann
Port Na Cailliche
Port Nan Con
Pretty Mary
Pretty Peggy
Prince Charlie
Prince Charlie's Medley
Push About the Jorum
Rachel Rae
Ranoch Lodge
Reel of Tulloch
Riefield Lodge
Rinettan's Daughter
Rise Ye Lazy Fellow
Roaring Jelly
Roaring Rivie
Rob an Lugi
Rob Roy Macgregor
Robert Menzies
Robertson's
Romp Among The Whins
Rory Macnab
Rory O'More
Rothiemurchus Rant
Ruidhle Nam Maragan Dubha
s Molanach
Saighdear Ruadh
Sally Kelly
Sanders Brane
Sandy Is My Darling
Sandy O'er the Lea
Sean Chaisteal Ghart
Sean Phort Maith
Sean Rong Mhor
Seumas Mor A'Ghlinne
Sgian Dubh
She Put Her Knee On The Carl
Sheep Shanks
Sir Archd. Dunbar
Sir David Hunter Blair
Sir George Mackenzie
Sir John Lockhart Ross
Sir John Stewart of Grantully
Sir Reginald Macdonald
Sir Robert Peel
Sir Ronald Macdonald
Sith Chailinn
Sleepy Maggy
Sodger Lad
Soldier's Joy
Sound of Mull
Speed the Plough
Steer the Gill
Stoigh Leam Fhein an Siosalach
Strathearn
Stratherick
Strathmashy
Struan Robertson's Rant
Stumpie
Sucky Bids Me
Susie Brodie
Sweet Molly
Symon Brodie
Taigeis Agus Dealg Innte
Tarbolton Lodge
Teviot Bridge
The Auld Stewart's Back Again
The Auld Toun o' Ayr
The Back of the Change House
The Banks of Garry
The Banks of Loch Ness
The Beauty of the North
The Bedding of the Bride
The Belfast Almanac
The Belted Plaid and Health to Wear It
The Big Ladle Of The Cog
The Black Cairn
The Black Laddie, My Darling
The Black Mill
The Black-Haired, White-Footed Maid
The Blear-Eyed Old Woman
The Bob O'Dooly
The Bob of Fettercairn
The Bobers of Brechin
The Bog o' Gight
The Bonfire
The Bonny Toun o' Kenmore
The Bottom of the Punch Bowl
The Braes of Athole
The Braes of Mar (Old Set)
The Braes of Tullymet
The Brees Are Loose and the Button's Awa'
The Brew-Wood
The Bridge of Garry
The Bridge of Inver
The Brig o' Balater
The Brig o' Dee
The Brig o' Tilt
The Buck of the Cabrach
The Caithness Rant
The Cameronian Rant
The Carle Cam' o'er the Craft
The Cat's Little Loch
The Chisholm
The Cock of the North
The Cottar's Wife
The Countess of Rothes
The Cross of Inverness
The Cumberland
The Cumberland or Miss Gibson
The Darling
The Dashing White Sergeant
The Deer Forest
The Deil Amang the Tailors
The Dervaig Medley
The Deuk's Dang O'er My Daddie
The Doctor
The Dogs' Tune
The Drummer
The Drunken Wife
The Drunken Wives of Fochabers
The Duchess of Gordon (x2)
The Duchess' Slipper
The Duke of Athole
The Duke of Gordon's Birthday
The Dun. Slovenly Carle
The Dunn Carline
The Earl of Lauderdale
The Fairy Dance
The Feet Washing
The Fisher's Rant
The Fisher's Wedding
The Flagon
The Forest of Gaick
The Fraser Arms
The Fyket (Reel)
The Fyket (Strathspey)
The General Gathering 1745
The Glenburney Rant
The Gordons Hae the Girding O't
The Haggis
The Haggis of Dunbar
The Higher Ridge
The Highland Skip
The Highlander's Farewell to Ireland
The Highlandman Kissed His Mother
The Highlands of Banffshire
The Hilarity (Of The Scene)
The Hon. George Carnegie
The Hon. Miss Drummond of Perth
The Hon. Mrs Graham of Balgowan
The Honey Moon
The House of Achluncart
The House of Cluny
The House of New
The House of Park
The House Of The Hill
The Hurdle Race
The Kids
The King's
The Lad Malcolm
The Lads o' Elgin
The Lads of Foss
The Laird of Macintosh
The Lasses of Stewarton
The Lasses' Fashion
The Lea Rig
The Lees of Luncarty
The Little Drinking Cup
The Maiden Breast
The Maids of Islay
The Marchioness of Huntly
The Marchioness' Salute
The Marquis of Huntly's Farewell
The Marquis of Huntly's Welcome to the Royal Highlanders
The Marquis of Tullibardine
The Merry Lads of Ayr
The Merry Making
The Mill of Laggan
The Miller of Camserney
The Miller's Daughter
The Miller's Man
The Moaning Of The Sound of Mull
The Moray Club
The Mull Rant
The New Mill of Logierait
The Night We Had The Goats
The North Hunt
The Novelty
The Old Ewes' Hill Pasture
The Old Man Will Never Die
The Old Man's Tune
The Old Wife's Tune
The Owl
The Oyster Wives' Rant
The Parks of Fochabers
The Perrie Werrie
The Perth Hunt
The Pipe Slang
The Pirriwig
The Pitnacree Ferryman
The Red Soldier
The Reel Of The Black Pudding
The Rendezvous
The Rock Overhanging The Marshes
The Rover
The Row
The Sallow Old Woman
The Scolding Wives of Abertarff
The Smith of Killiechassie
The Smith's Burn
The Smith's Burn
The Source of Spey
The Sportsman's Haunt
The Square and the Compass
The St. Kilda Wedding
The Stewart's March
The Stewart's Rant
The Stone Of The Tub (Inverness)
The Stool of Repentance
The Stormont Lads
The Strathbogie Toast
The Swallow
The Thorn Pool
The Triumph
The Tweeddale Club
The Uist Lasses' Darling
The Waking of the Fauld
The Walking of the Plaiding
The Wappinschaw
The Weaver's Daughter
The Wedding Night
The Wedding Ring
The Well Of My Life
The Whigs of Fife
The Whipman's Rant
The White Cockade
The Wind That Shakes The Barley
The Wooded Ravine (Braemar)
The Yetts of Muckart
Thearlaich! Nan Tigeadh Tu
This Is No' My Ain House
Thomas' Son Wears A Dirk
Thorn Bush
Tigh An Duin
Tigh Eachainn
Tigh Iain Ghroit
Timour the Tartar
Tobar Mo Bheatha
Torry Burn
Tullochgorum
Tullymet Hall
Up and Waur Them A' Willie
Urquhart Castle
Viscountess Duncan
Wandering Tinker
Waterloo
We'll Take The High Road
Weaver Malcolm
Welcome To Your Feet Again
Wests
Wha Wad'na Fecht for Charlie
What's A' the Steer
Whisky Welcome Back again
Whistle O'er the Lave O't
Will Ye Run awa' Wi' Me
Will Ye Take A Wife, Little Donald?
Willie Davie
Willie Duncan
Yester House